Proud Geek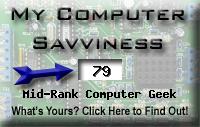 Just took the computer nerd test at www.nerdtests.com and am proud to report the score above.
Well, kinda proud.
Actually, it shows that I spend an inordinate amount of time playing World of Warcraft and that I handled a lot of old computer equipment and languages and that I only cheated a little – I did look up the image of Seymour Cray.
But then, Googling is a computer skill, right?
3 Responses